The TOP 100 Startup SHOWCASE by QBO Philippines is once again featured in the annual 5-day conference in the country by Philippine Startup Week 2021 (PHSW22).
It is among the startup ecosystems in their activation phase, together with Dashlabs A.I, KodeGo, Edukasyon PH, Paymongo, and many other startups in different fields.
"The conference is seen as giving opportunities for founders in the Philippine startup ecosystem from networking to exploring the different community events, showcasing the startup ecosystem," says QBO President Rene "Butch" Meily
First hybrid conference after two years, the opening day was an in-person meet-and-greet at the Blue Leaf Pavilion, and virtual sessions afterwards.
A press conference was also held on opening day with representatives from QBO, IdeaSpace Foundation, as well as government sectoral representatives discussing the current startup landscape in the country.
In her story, Katrina Rausa Chan, executive director of QBO Innovation Hub, explains: "We want to level the playing field and give Pinoy startups the resources, the opportunities and the network that they would need to be able to compete on the global stage. The Philippine Startup Week is a constant reminder of that goal and how we are progressing year on year."
In this talk Chan discusses how working with other partners has propelled the local startup scene to where it is today.
"Different initiatives and stakeholders are joining hands with startup founders to discover, develop, collaborate, invest and showcase what the Philippines, through our homegrown heroes, has to offer in the global startup ecosystem," adds Chan.
A big shoutout to our very own Chief Marketing Officer, Karl del Val, for representing Abakada Studios at PHSW22.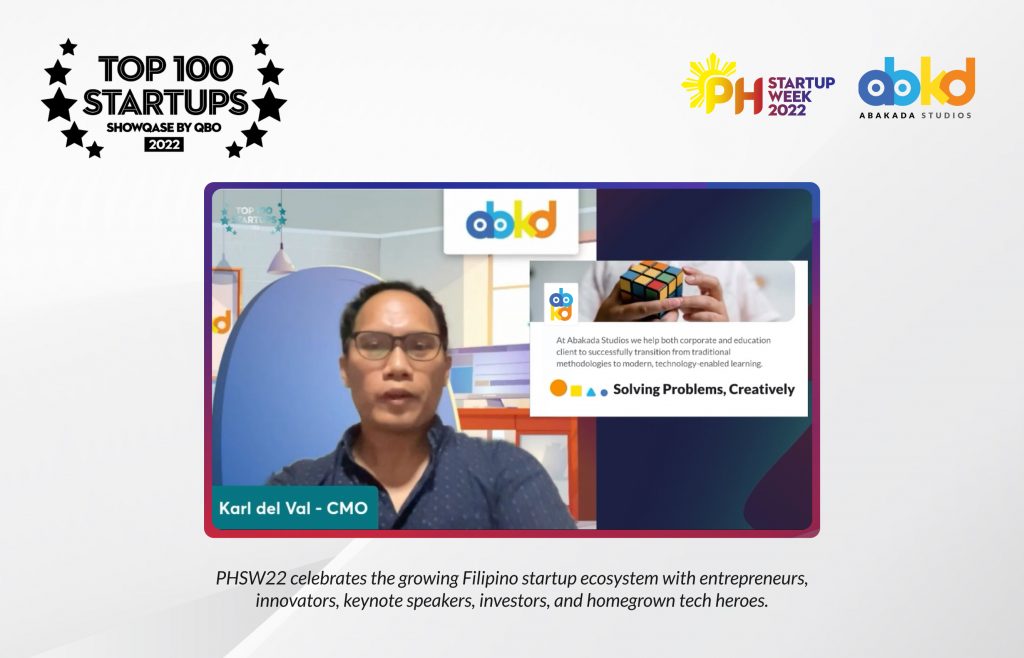 Abakada Studios is humbled and honored to be recognized by QBO Philippines as one of the Top 100 Startups that are currently leading the way in their own fields. As a team, we are proud of the work we have done so far. We're looking forward to delivering amazing experiences through the use of technology and innovation. This will enable us to continue to grow and expand our reach across last mile communities throughout the country.
In partnership with the Department of Science and Technology and the Department of Information and Communications Technology as the lead implementing agencies of the Innovative Startup Act, the DTI will facilitate more collaboration among members of the startup community, support the scaling up of startup enterprises, and foster their global expansion.
This year's event is co-presented by PLDT, 917Ventures, Accelevents, AWS, Microsoft, and Pilipinas Shell, along with Accenture, Meta, Xendit, Globe Business, Qapita, AHG, and Jobstreet. To find out more about Philippine Startup Week, visit https://www.phstartupweek.com/!