March is Women's Month, as we are all aware, and it is observed globally. This is in place of honoring all female accomplishments, large or small, at any age and in any field. This will serve as a forum to highlight and discuss ongoing and new gender equality and women's empowerment issues, concerns, and commitments.
In order to recognize the contributions and accomplishments of women in furthering the country's digital agenda, the Department of Information and Communications Technology (DICT) – Caraga Region has actually arranged a webinar series for this year's International Women's Day. Their theme is DigitALL: Innovation and Technology for Gender Equality in an effort to encourage a future in which every person, regardless of gender, has access to and is able to fully engage in the digital economy.
Along with five other experts in their respective fields who were chosen to discuss and have lectures on different areas about women empowerment, achievements, and gender equality, our very own Project Manager, Ms. Lady Cindy Valera, and Digital Marketing Specialist, Ms. Friday Galvez, represented Abakada Studios in the 2023 Women's Month Webinar Series by DICT Caraga – Surigao del Norte Provincial Office.
Digital Technology and its Growth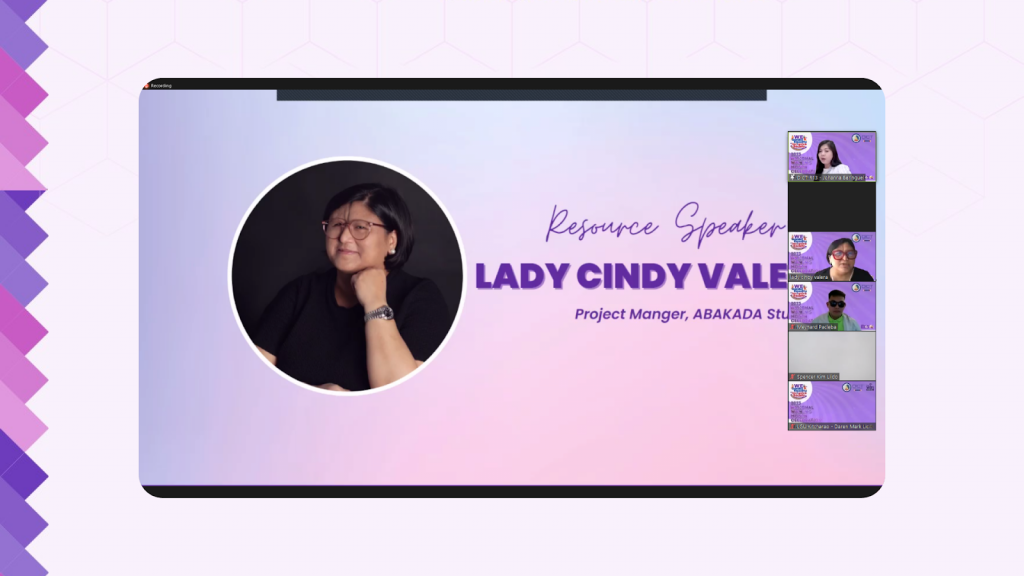 The webinar presentation by Ms. Lady Cindy Valera is entitled "Digital Technology that will Shape the Future." She has delved into the ways that this innovative new platform will influence the development of Web 3.0 and has examined the cutting-edge technologies and trends that are fueling its growth. She has talked about the key factors that have shaped Web 3.0, including quantum computing, decentralized finance, 6G, artificial intelligence, extended reality, blockchain, and the internet of things. She has also looked at how businesses, organizations, and individuals can use this technology to stay ahead of the curve and foster innovation in the years to come.
She stated that since only one in four women hold senior roles in the ten top technological businesses and only one third of the workforce is female, future innovations should hopefully help reduce the gender gap. Which is not entirely false, right? Many women have been harmed by the system of men holding all positions of authority, particularly in the technology sector. Because it has been instilled in our minds that men are typically the ones who handle demanding workloads and women are typically labeled as people who cannot operate in a technological setting.
Therefore, Ms. Lady Cindy Valera left a very powerful message for everyone – digital technologies are exciting innovations that can change the world and, hopefully, improve the lives of women all over the world.
 Graphic Design and the Weight it Holds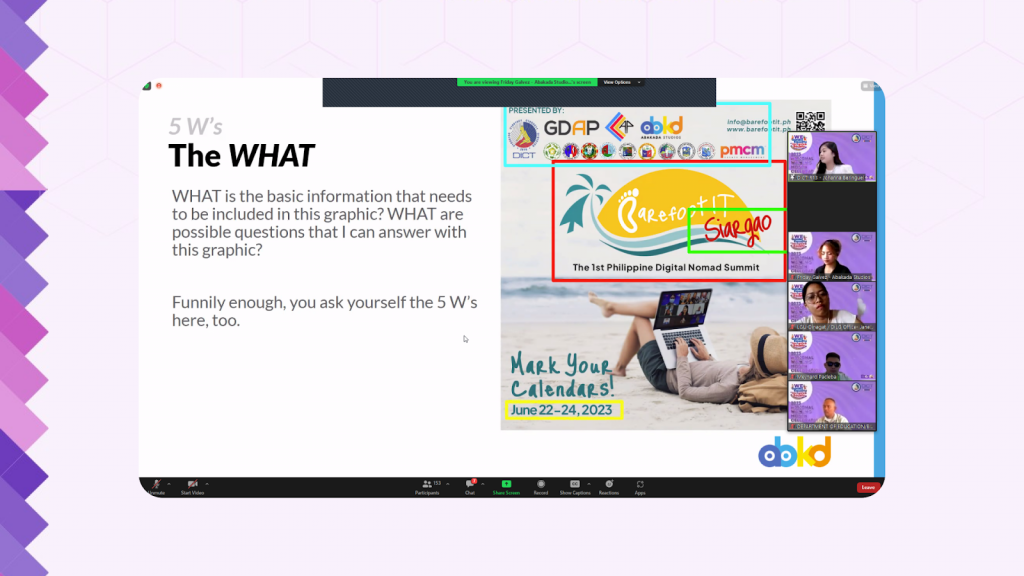 Where do women sit at the design industry's dinner table? First is, we need to make sure that women are invited – a wonderful line from Ms. Friday Galvez's discussion on Intent to Impact: The Power of Purposeful Graphic Design. Her talk addressed how intention and purpose can take designs from being merely pleasing to the eye to being impactful and meaningful. She looked into design psychology, shared actual examples of purpose-driven designs, and offered helpful advice for producing designs that leave an impression.
She indicated that 2023 is instant. In this day and age, our society is so instantaneous that we can instantly recognize logos when we see them in our daily lives. A story is portrayed through graphic design, which has a significant impact on us. Poor execution will convey the wrong impression, but a good example can be effective, simple to grasp, and provide an explanation of what they wish to do. We have to make sure that our impact matches our aim which is why the 5W's come in handy. The Why, Where, When, What, and Who are crucial in building a great and persuasive graphic design.
Women have a knack for designing since before this digital era because women were intended to please and impress people with their appearance and status. To assert that women are capable of greater design and deserve a place in this field is difficult, though. Nevertheless, countless women have demonstrated that, regardless of gender, graphic design is all about intent, impact, and purpose. It is much simpler to elevate other women to her level when there is already one powerful woman in the room. As a result, Ms. Friday Galvez emphasized that one approach to help women is to provide them with the platform, the opportunities, and the knowledge necessary for them to be able to rise to a point where they can contribute and give back to general society.
Empowering Women in the Digital Economy
To put it simply, everyone has the potential and capacity to work in the technology sector, as well as any other field, regardless of their gender. Being at the top of the corporate ladder is not impossible for women. Allowing these strong women to participate in discussions with other people at the table and demonstrate their ability to speak for other women's concerns is a huge accomplishment. According to what we have learnt from the speeches by Ms. Valera and Ms. Galvez, these inventions, technologies, and purposes can empower women and help them reach their goals.
The aim of Abakada Studios is to give women a sense of agency, significance, and value. There are no mistakes when it comes to putting forth ideas, plans, designs, and new platforms that you have in mind. Everyone who is capable of working well with others and finding innovative solutions to challenges is welcome. If everyone can participate in and make contributions to our society without worrying that they won't be accepted, then we have achieved a big success.
In order to give our clients a flawless experience, we at Abakada Studios place a high premium on understanding their needs. If you have any questions, feel free to look at our services or contact us by email at inquiries@abakadastudios.com.