The Government Procurement Policy Board- Technical Support Office (GPPB-TSO) hosted the FY 2022 Procurement Summit on 27-28 October 2022 held at the Philippine International Convention Center. The event is also streamed live on both the official GPPB Facebook and YouTube pages and is also open to online viewers on the Zoom platform.
This year's summit is inspired by the theme "Building Strong Supplier Relationships towards Innovative and Sustainable Public Procurement." It aims to highlight the partnership and trust between and among procurement stakeholders from the government and private sector. In particular, it seeks to promote green market products and services by encouraging innovative business models.
One of our proudest moments was being featured as one of the exhibitors at the Procurement Summit 2022! Abakada Studios supports Government Procurement PH (GPPB) and Procurement Experts in inspiring future procurement leaders and stakeholders to collaborate more and build stronger networks to make public procurement more agile, innovative, and sustainable.
"This 2022 is yet another milestone in the Philippine government procurement system as we reinstate the conduct of the Procurement Summit, as we see the importance of collaboration and partnership between the government and private sector towards a more responsive and agile procurement system, which is the sole purpose of this Summit." Department of Budget and Management Secretary and GPPB Chairperson Amenah F. Pangandaman shared as she welcomed all the participants, which included representatives from international organizations, NGAs, GOCCs and/or GFIs, SUCs, LGUs, Civil Society Organizations, GPPB Recognized Trainers, GPPB Members, the IATWG, and partner SUCs implementing PPSCC.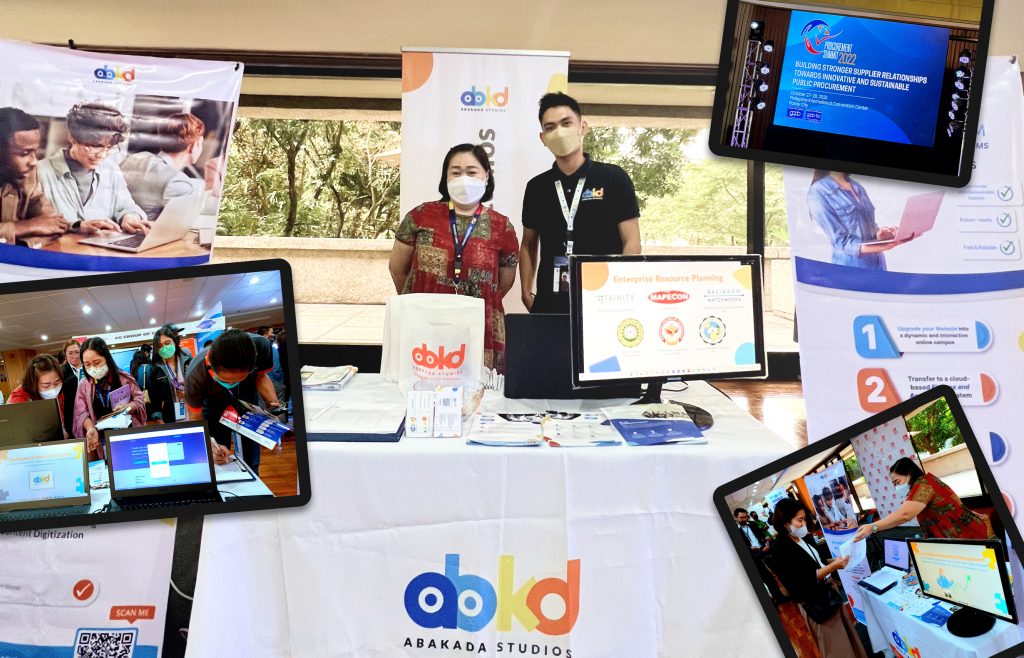 This two-day event begins with a plenary presentation on the importance of public procurement as a strategy for circularity by exploring innovative and sustainable products and services as the government upscales its business processes and emphasizes environmental protection. The discussion also covers how technology such as blockchain can facilitate open and transparent supply chains, enhancing integrity and competition in public procurement via the immutability element of blockchain. Besides technical sessions on innovative and sustainable public procurement, the event features an exhibit showcasing a variety of products and services from various suppliers.
The 2022 Procurement Summit emphasizes collaborations and networking with suppliers that can lead to more agile, innovative, and sustainable procurement. This event showcased the products and services of prospective bidders and encouraged the sharing of experiences and success factors in coping with the pandemic through digitization and technology in the supply chain. In 2023, big ticket projects will also be showcased by Procuring Entities as a way of informing the suppliers of what the government requires from them.
Last but not least, GPPB-TSO Executive Director Rowena Candice M. Ruiz conveys her gratitude to all the participants who joined the office in celebrating another milestone: "Indeed, the pandemic made us stronger and better at innovating and adopting. Your presence and your overwhelming support to our Procurement Summit certainly inspired us to push further and, together, build a more responsive, innovative, and sustainable public procurement because, together, we will continue to make things happen."
Procurement Summit 2022 served as an avenue for procurement practitioners from both the government and private sectors to be kept abreast of the reforms, innovations, and advances in the Philippine Procurement System that will further capacitate them and enhance collaborative partnerships for a stronger and more responsive procurement regime as the economy and the greater society open up after the pandemic.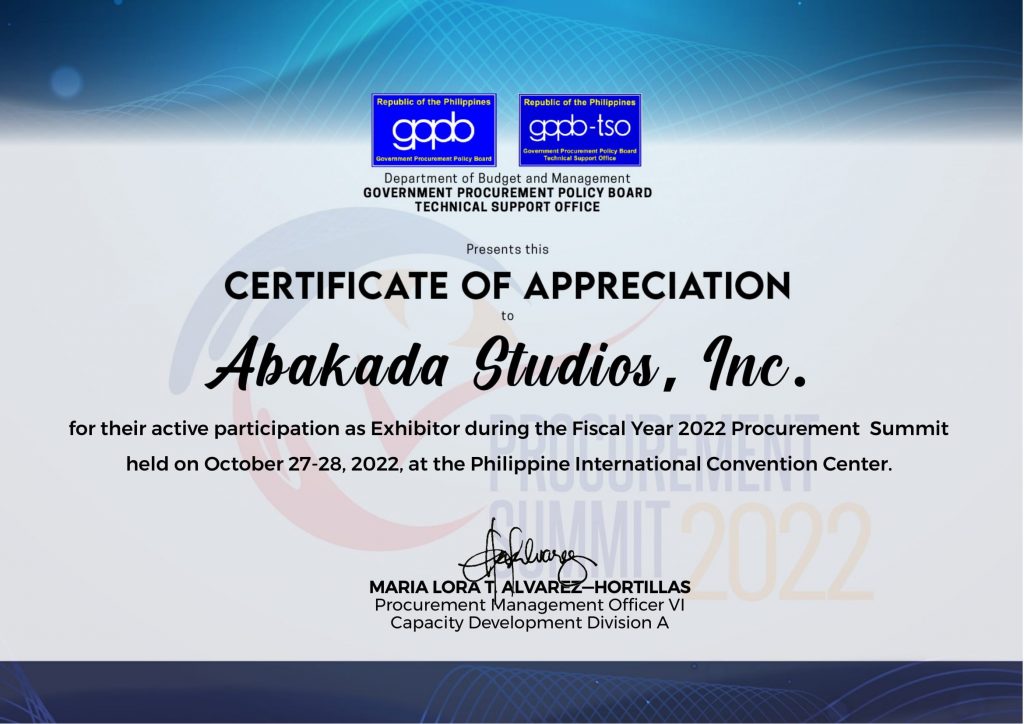 When you think about the future of technology, where does your mind wander?
If you're like most people, you can't help but imagine a world where technology is integrated into every aspect of our daily lives. You see yourself using it to communicate with friends or with your loved ones. This will help you get through the day at work or anywhere in the world.
But what if there was a way for all these things to happen without any negative impact on the environment? What if we could use technology to make our lives easier, while taking steps toward protecting our planet?
That's exactly what we do at Abakada. We believe that everyone deserves access to top-tier products and services that will help them make their lives easier and their businesses more efficient. This will help them reduce the impact they have on the environment as well.
Our team focuses on our clients' needs and develops custom products to meet those needs. We believe in the power of building relationships, so if there is an opportunity for you or your organization to work with us please contact us at: inquiries@abakadastudios.com. We'd love to hear from you!